Why Reflexology?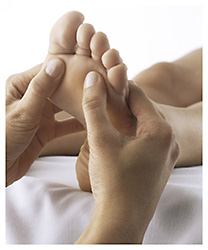 The American Medical Association has reported that stress is a factor in seventy-five percent of all diseases. Because it works through the nervous system reflexology is extremely effective in helping to reduce stress and anxiety.
It's important to remember that reflexology is not a diagnostic tool; however, many professionals within the medical community are beginning to refer their patients to a certified reflexologist to enhance the treatment of many medical conditions.
What occurs during a session?
At your first session you will be asked to fill out a client history form, followed by a warm, soothing mineral footbath. You will then recline onto a reflexology table. Be prepared for a full hour of deep relaxation and rest with peaceful music playing in the background and candlelight.
Consider relexology for the following benefits:
Alleviates stress and tension in the body
Increases circulation
Improves lympathic drainage
Reduces musculoskeletal pain
Relieves migraines and headaches
Clears sinuses
Optimizes the digestive system
Balances the hormonal system